Carbide UI Theme Editor: Make Symbian S60 theme
Carbide UI Theme Editor is software to make Nokia theme, for every type that support theme. With that ability, you must precise your phone type when make a theme. If input the wrong type, your theme will useless.
Theme creation with Carbide UI Theme Editor or not….. you must create a certificate file to a S60 v3 Nokia theme so that it can be used. I make Nokia 6120c theme that's S60 v3 familiy as a sample.
As alternative, now no need to be puzzled to make Nokia Symbian S60 theme. You can make the theme online. No need install sofware to your computer….. and certainly can run smoothly as long as it is available enough internet connection. You only need to provide a picture of appropriate size with your cell phone.
But before that, let's see how to create nokia theme using Carbide UI Theme Editor.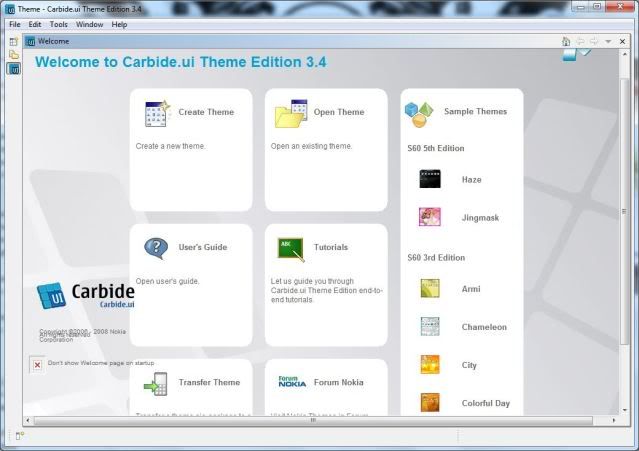 From welcome window you can choose Create Theme directly, or if you follow my way… I will choose one of the sample themes. Because I will create theme more faster, no need to determine every single part or component.
Choose what theme you want to make, S60 or S40. S60 audio theme use for make several ringtone on yours. For this case, you choose S60 theme for sure.
Now… it's loading the interface, let's look…
To customize standard theme is the same way with customize S40 theme, read the article before … Let's make your personal theme (S40).
Make sure you select a correct part before change it. For example… to change background on idle screen you must select idle background menu on left side resources explorer, although you select it directly from preview window. The point… select the correct part.
Another that needs more attention…
Correctly select  family type of the phone. S60 2nd (v2) are previous Symbian OS phone like 6600, 7610, N70, etc. S60 3nd (v3) are N73, 6120c, N76, N81, etc. S60 5th (v5) are 5800 XM, N97, 5320, etc. To make more sure please visit Forum Nokia.
Then set your mobile phone screen resolution…
After customize everything you want, compile the theme so that you can install it in the phone. On S60 v2 phone, you can use the theme after compile it. On S60 v3… need making certificate file before. These certificate file are needed when you compile the theme. Remember choose the correct target platform.
If so… click next.
Define theme file target location. And fill the password that match with certificate file that created. After that, transfer to your mobile and install.
You will find something thats not perfect in this tutorial. You need to read some article that related to this tutorial at next post. If this tutorial not clear, then ask me please through comment form below. I hope I can answer your questions.
Carbide UI Theme Editor download.
Want to download S60 v3 sample theme ??? Or… want to view My Gallery ???
Are you see something blue that shaped like bar on the theme of yours ??? Read … "Remove the blue bar in Nokia S60 v3 and v5 theme".
Need icons and highlights, see Source download page.