You know… Who are the Windows 7 ownership?? In your laptop or PC??? Your self…?? NO. You are not…
So.. who? I think windows system it self, but you can divert this Windows 7 ownership case. I do this in order to use modified theme by third (3rd) parties.
First, right click to get properties of the system file.
In security tab, as shown in the image beside, note the red mark.
If the ownership not yet divert, you can not have the full control to the system file. Cannot edit the system file, just read…
Choose advanced… and go to owner tab (as shown in the image below).
Click edit…
Choose your account and confirm with OK.
Your account will be the owner.
After that go to permissions tab and click change permissions.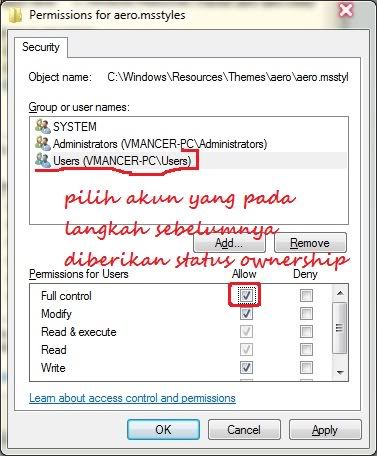 Choose your account and click edit.
Now check full control option at bottom section and confirm with OK.
If show error or you cannot apply that, you must always choose OK until the window dialog are clear, then repeat the step but remember… now you go to permissions setting.
Repeat to choose full control access.
If you can confirm with OK… it means you get the full control permission to edit that file. To edit… to replace… or everything modified you made of the file.
Is this too hard? ….. then read this article how to do it more easily: Take ownership with more easily with merging registry entry.
Next article is… use this tutorial to apply custom theme by third parties.